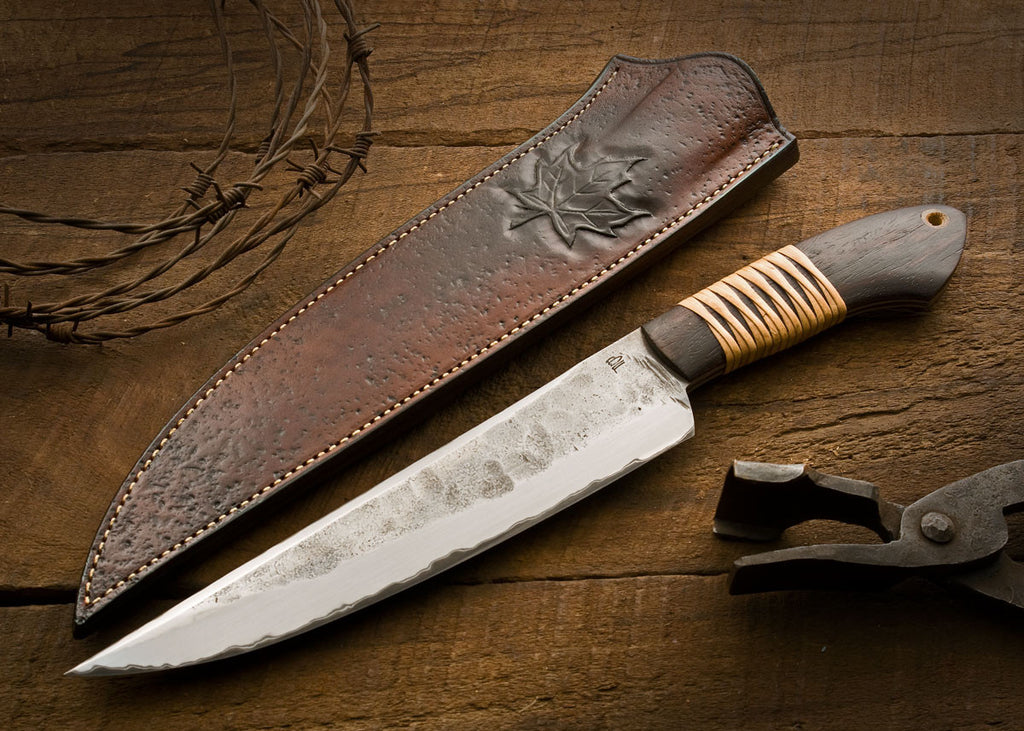 Autumn Camp Knife
As it often is, my creative moods are influenced by the weather, by the view outside the shop when I head into a new project.  As one of the last knives made in my shop in 2016, this knife was made in the late fall, and wears a lot of inspiration owing to the season.
The knife itself is one of my Rustic Camp Knives, forged entirely to shape, with minimal grinding and maximum heritage left out in the open.  But on this knife, The blade is my stainless/carbon Laminated steel, rather than plain carbon steel.  Forging the edge bevels to shape pinches the core to its thinnest possible cross section, leaving only a sliver of exposed 1095 at the cutting edge, making this about the most stainless knife you could actually depend on.  The blade spine is thick and stout, but with the long dirk-shape, it has the right amount of forward heft without being heavy.
The handle is weathered cocobolo, fastened with hidden pins, and wrapped in bamboo rattan with a bamboo lined lanyard hole. 
The deep pouch sheath is distressed and tooled with an actual maple leaf I picked up outside the shop.  While the rest have now begun their journey back to dust, this one alone will live on.
The blade is just over 9" with an overall length of 14.5"