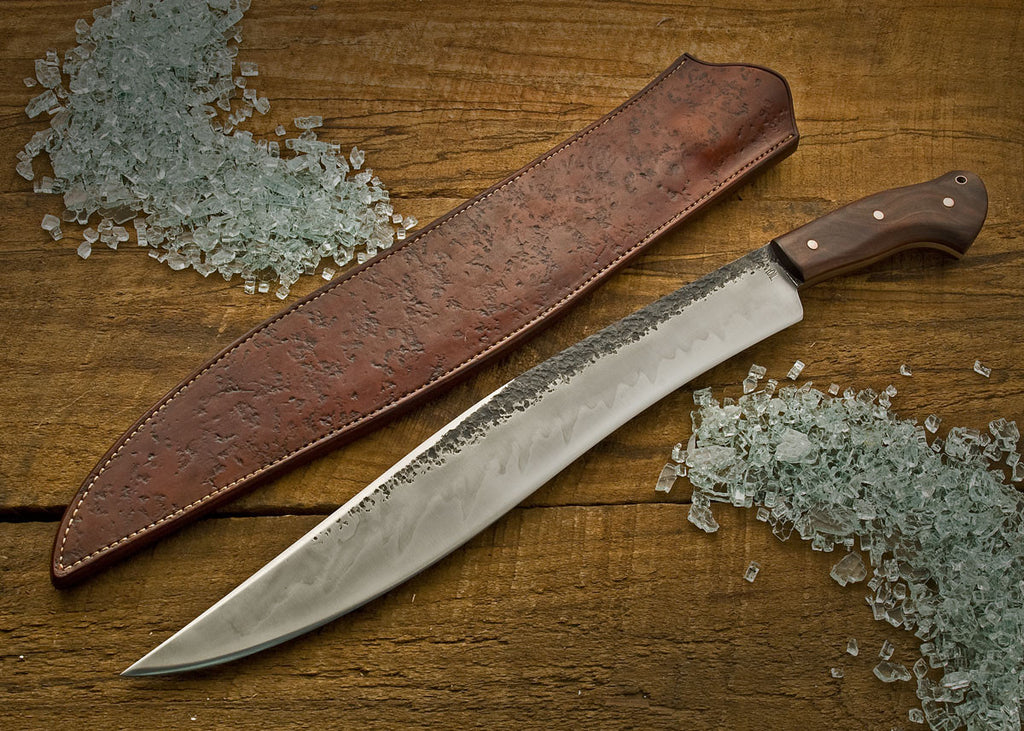 American Bolo
I've dubbed this an American Bolo, because of the strong Philippine Bolo influence, blended with a clip point and a handle shape that has become a favorite of mine on large knives.  The Blade is forged from 1095, satin finished on the flats, forge-textured on the spine, and clay-hardened to show a beautiful hamon.  It was all I could do to restrain myself from putting the hours necessary into a sublime hand-finish that would showcase the subtlety of the hamon, but I resisted because that goes against the whole idea of keeping the costs down while squeezing in as much character as possible.  The handle is natural (not stabilized) Brazilian rosewood that I've had for several years in my dry box.  Modern, acrylic-impregnated stabilized wood just seemed wrong on this knife, while the natural rosewood and the hammer-peened copper pins seemed just right.  
Even the sheath was "rusticated" with a special technique I've developed over the years that is top-secret.  OK, I'll tell you...  I have a rock I like that I roll and pound and press into the leather 'til it looks just right.  :-)
This monster of a knife has a 16" blade, with an overall of 21.5".  The blade is just over 2" at the widest point as is 3/8" thick at the ricasso with a distal taper and a tapered tang.