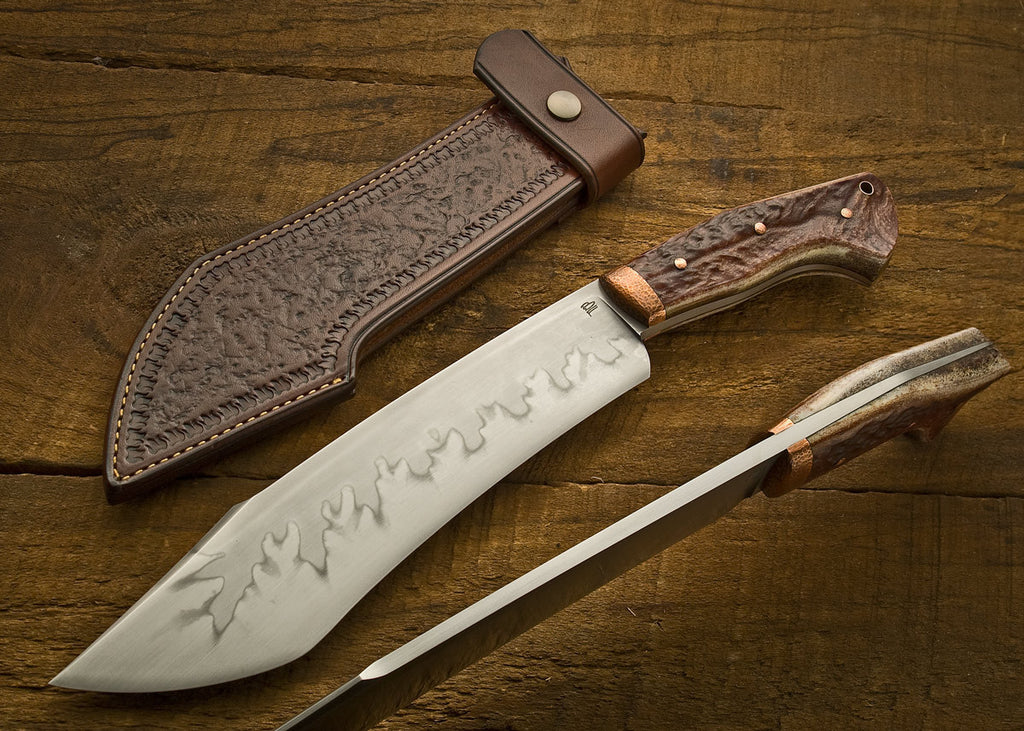 Brushman Camp Knife
This is a fairly unusual knife for me in a couple of ways.  t's non-traditional, but has wonderful angles and curves, not a straight line anywhere, and makes for a very powerful chopper.  The second thing, and the inspiration for the whole knife was an enormous piece of elk antler that begged to be used for something special.  
The blade is forged, clay hardened 1095.  The hamon is my signature "flocked" pattern.  The bolster and pins are hammer-peened copper, aged just a little so that it has already begun to show some wonderful color patina.  
The elk antler itself presented some interesting choices.  It had wonderful color, texture, and shape, but it is still a natural material so it was not perfectly symmetrical.  This resulted in the first knife I have ever made that actually shows a preference for a right-handed user.  There is a curve and a hollow on one side that is less present on the other, and as a right-handed user the fingers just drop into that hollow perfectly. 
The sheath has a unique retaining system that prevents the knife from being drawn straight out, but requires it to be pulled to the rear before it can be drawn.  The sheath is tooled with a distressed pattern, then bordered with my campfire pattern.
Blade is 10.5" long, nearly 2.5" wide, and has an overall of just under 16""